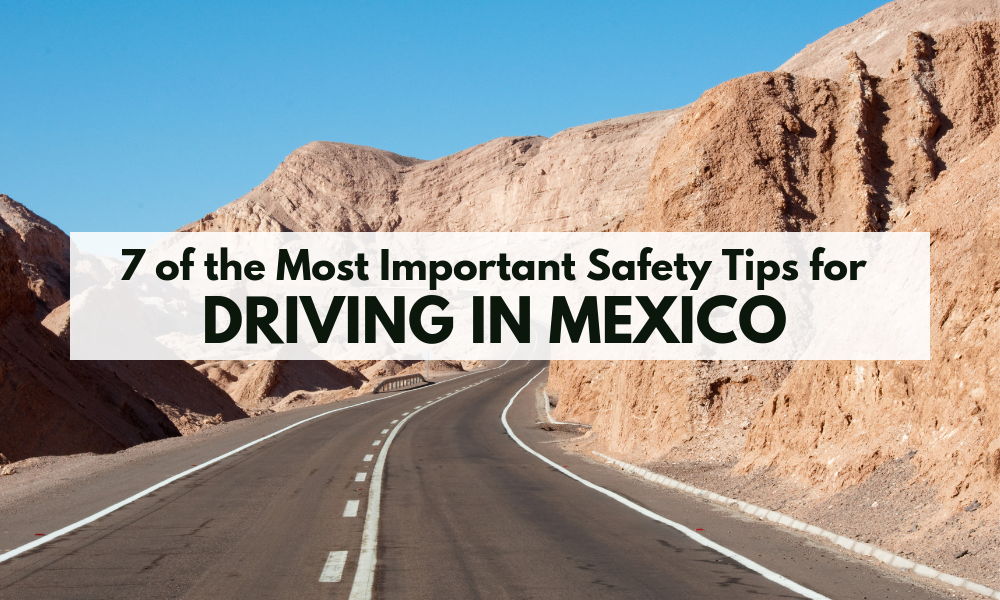 Driving in any foreign land can be dangerous. Each country has its own unique legal processes, road conditions, and safety rules, and Mexico isn't any different. As such, it is important to take the time to learn Mexico's rules of the road and general safety guidelines that may differ from your own country. If you don't, you could end up in serious legal, financial, or even medical trouble. These safety tips for driving in Mexico will help you reduce your chance of having an accident as well as prepare you for what to expect if one occurs.

Take toll roads
In Mexico, there are two main types of highways—the toll or "cuota" roads and the free or "libre" roads. While driving on toll roads in Mexico may be more expensive, they are much safer than the free roads. Free roads often wind through towns, where there is a lot more traffic, which can increase your chance of getting into a dangerous collision. Furthermore, free roads are often riddled potholes and, occasionally, wandering livestock. Toll roads are wider and kept in better condition. Plus, the Green Angles monitor the toll roads. Similar to the AAA in the U.S., the Green Angles are a bilingual group that patrols major highways in Mexico and provides help to drivers who need assistance. As such, it is much safer to stick to toll roads when driving in Mexico, especially at night with reduced visibility.

Avoid driving at night
Driving at night in Mexico can be dangerous. According to Trip Savvy, "road fatalities are far higher at night in Mexico than by day." Due to the decreased visibility, it can be hard to see tire-popping potholes, sharp turns, or even livestock that wander onto the road—a relatively common occurrence in Mexico. Plus, the cover of nightfall provides a prime opportunity for criminals such as robbers or kidnappers to strike. If you have an issue with your car that requires you to pull over on the side of the road, you become a sitting target. To reduce the risk of these potential dangers, it is much safer to drive during the daytime.

Watch out for speed bumps and potholes

Unexpected bumps or holes in the road can wreak havoc on your vehicle. Unfortunately, these are very common on roads in Mexico unless you are driving on a toll highway. Since the government doesn't regulate many roads in Mexico, potholes can reach incredible sizes—some the size of half a car. If you aren't paying attention, these holes could put your vehicle out of commission. Additionally, it is important to keep an eye out for speed bumps. Known as topes, Mexican speed bumps are far larger than U.S. speed bumps and are much harder to spot. Sometimes, warning signs with an image of two black bumps on them indicate their location; however, many are often left unmarked. As such, it is important to keep an eye out for them, especially when entering or leaving towns.

Familiarize yourself with Mexican road notifications

While driving laws in Mexico and the U.S. aren't that different, they do have a few dissimilarities worth noting. One of the main differences that drivers should acknowledge is that speed limits and distance markers in Mexico follow the metric system rather than the imperials system. In addition, the majority of road signs in Mexico read Spanish. As such, it is important to familiarize yourself with the appearance of Mexican traffic signs so that you don't miss any important road notifications.

Get insured

When driving in an unfamiliar country, your risk of having an accident goes up. Thus, it is important—and legally required—to have Mexican automobile insurance. In the case of an accident, failure to provide proof of valid insurance could result in hefty fines that you have to pay out-of-pocket; officers may even detain you in jail until you settle your case. Even if you have U.S. insurance, it is important to note that most companies don't provide coverage in Mexico, and those that do often have strict limitations and restrictions. Furthermore, unless you are able to prove your coverage or have a local insurance representative, your insurance may not be honored by the Mexican authorities.
As such, the safest option is to enroll in an insurance plan through a licensed Mexican insurance company such as Lewis and Lewis Insurance Agency. For a great price, our plans provide a wide range of coverage for various tourist vehicles throughout the entire Republic of Mexico.
Carry proper documentation and contact information

In the case of an accident, it is important to be prepared. When driving, you should always keep your passport, driver's license, visas, proof of insurance, and other relevant documents in your vehicle. You should also have important contact information written down, such as Mexico's emergency number—066—and the number of your insurance agency. This way, you are able to promptly receive the assistance that you need. Another useful phone number to know is the Green Angel contact line. In the case of an emergency, call 078, and the Green Angels will provide free mechanical, towing, and first aid assistance on Mexican toll roads.

Know what to do in case of an accident

When an accident occurs, there is a specific reporting process that all drivers should follow. After ensuring that everyone involved in the accident is safe and taken care of, you should then move your vehicle out of the line of oncoming traffic. Then, exit your vehicle and call the police as well as your Mexican insurance company's 800 number so that you can leave your information. Your insurance agency will likely send a claims adjuster immediately to document the claim at the scene and arrange for a towing service if you need one. While waiting for the police and your insurance agent to arrive, never leave the scene of the accident or your vehicle unattended. Once they arrive, you can complete an accident report and file your claim. Regardless of the size of your accident, you should always file a report before leaving the country.
When driving in a foreign country, it is important to be prepared. By following these safety tips for driving in Mexico, you can reduce your risk of getting into a traffic altercation abroad and avoid legal and financial trouble if one occurs.