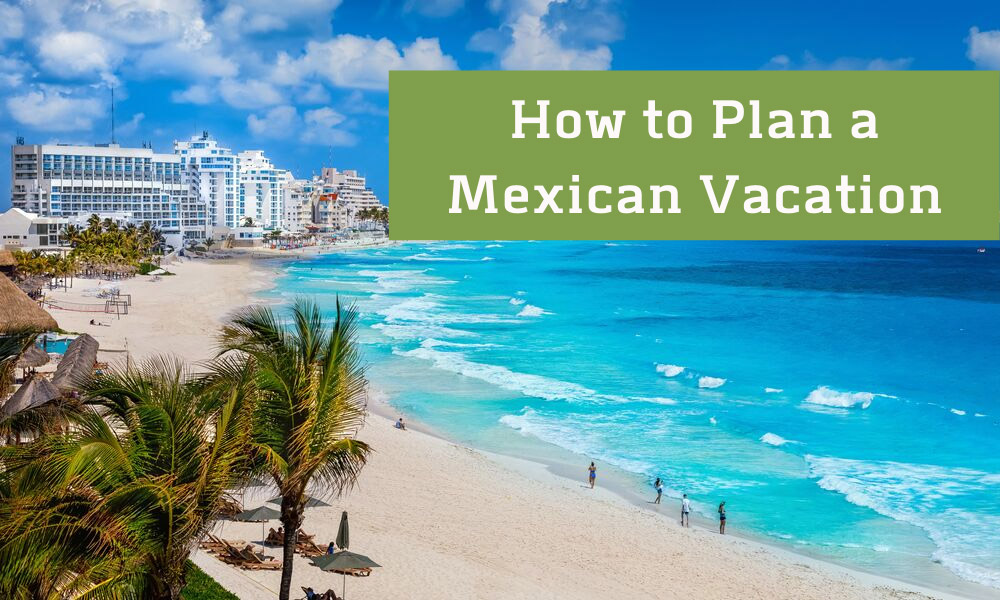 If you're interested in planning an unforgettable trip to a tropical paradise that blooms with culture and radiates vibrancy, Mexico is the destination for you. As with any destination, planning a trip to Mexico requires proper planning to ensure that your vacation is exactly what you hoped it would be. When planning your trip, there are many factors to consider, from when to visit and how to get there to what documentation you'll need to provide. To ensure you check off all the essential boxes before you take off, follow this guide on how to plan a Mexican vacation.
Choose your destination
There are so many incredible destinations in Mexico that it can be hard to choose a location to plan your trip around. To help you decide, consider what type of vacation you wish to have—whether it be a cultural excursion or an adventurous experience.
Beaches
If you're interested in a relaxing beach vacation, consider Puerto Vallarta, Tulum, Playa del Carmen, or Cancun.
Art
Those who enjoy the arts might enjoy a visit to Mexico City. Visitors will find vibrant murals all along the streets and can visit the incredible cultural center, Palacio de Bellas Artes.
Food
Foodies will want to visit cities such as Oaxaca and San Cristobal for traditional Mexican cuisine. Mexico City is another great option if you're looking for a huge variety of street food options.
Adventure
Those in search of a little adventure may appreciate scoping out the many archeological sites located throughout the country. Check out cities such as Uxmal, Mexico City, Tula, and Santa Cecilia.
Decide when to visit
The time of year that you visit Mexico will greatly impact the type of trip you'll have. If you're interested in laying out in the hot sun on a soft beach, then visit during the country's hottest months. However, if you are planning a hiking trip through the many jungles and ruins that populate Mexico, then sweltering heat might not be your ideal forecast. To help you plan your trip during the ultimate time, check out this quick guide to the weather and seasons in Mexico.
When to visit Mexico for:
Hot weather: between April and September.
Cooler weather: between December and February.
Mild weather: between November and April. It usually doesn't rain during this time and temperatures are typically warm. However, the dry atmosphere often results in a less-vibrant landscape than during rainier months.
Fewer crowds and lower prices: fewer people travel to Mexico during May, June, and between September and November. If you don't want to deal with large crowds, these months are the best time to visit. Because crowds are sparser, tour and accommodation prices are typically lower to attract more business during the slow season.
Festivities: around holidays, spring break, and the popular summer months, there are often more festivities and special events going on. While prices may be higher and crowds may be bigger, visiting during these times may be worth it for the exciting carnivals, festivals, and celebrations.
When not to visit Mexico:
While there are perks to visiting Mexico year-round, you should avoid planning your vacation during hurricane season. At this time, tropical cyclones are most likely to form and put people along the coast in danger. In Mexico, hurricane season typically takes place from June to November with the peak being in September.
Choose your method of travel
Depending on your location and preferences, there are many ways to get to Mexico. To find the travel method that is best for you, consider the options below.
Air
Air travel is a popular method of transportation for getting into Mexico due to its convenience. Unless you live close to the border, flying is often the quickest and most efficient way to enter the country.
Land
Another common way to travel to Mexico is by land via a car or bus. If you choose to drive into Mexico, you'll need to provide originals and photocopies of car registration and your driver's license. Without this documentation, you can't obtain a permit for your vehicle. In addition, you'll need valid Mexican auto insurance and a temporary vehicle permit to travel to Mexico by car. Because there is no rail network in Mexico, taking a train is not the preferred option for most travelers. However, visitors can get to various points along the Mexican border via train and then take a car or bus in.
Sea
Main ports that allow travelers to enter Mexico by boat include Acapulco, Cabo San Lucas, Cozumel, Manzanillo, Puerto Vallarta, and Tampico. In addition, several cruise ship operators, such as Carnival and Caribbean Mexico, as well as Royal Caribbean, provide sea transport from the United States to Mexico.
Obtain mandatory documentation
When traveling to Mexico, you're going to need to bring the necessary documentation. It is important to note that you must keep all the required documentation listed below in good condition. If the documents have been significantly damaged, it may prevent you from crossing the border.
Passport book or card: regardless of the traveler's age, it is a requirement for people to have a valid passport book or card to enter Mexico. If you're traveling to Mexico by air, you'll need to bring a passport book, as airlines will not accept cards.
Identification: If you don't have a passport, there are many other forms of identification that you can use to gain access to the country. Alternative forms of identification include a state-issued enhanced driver's license or a trusted traveler card (SENTRI, FAST, NEXUS). These forms are only valid for land travel.
Mexico tourist card: Unless you're vacationing in Mexico for less than 72-hours, you'll need to get a visa or tourist card. Also called a Forma Migratoria Múltiple (FMM), this card is mandatory whether you choose to travel by land, sea, or air. Typically, you can purchase these cards for around USD 24 at tourism offices, airports, border crossings, or Mexican consulates. If you're traveling to Mexico by air, airlines will typically include this card in your ticket cost. Upon leaving Mexico, you'll need to return the Mexico tourist card to avoid potential inconvenient circumstances. This may include filing a police report, paying fines, or having to obtain an exit visa.
Mexican auto insurance and permit: If you plan to drive a vehicle at any time during your vacation in Mexico, you must have valid Mexican auto insurance. While you can purchase such insurance at the border, you'll likely get a much better deal with more comprehensive coverage by purchasing it online. In addition to the insurance certificate, you'll also need an FM-T tourist permit if you'll be in Mexico for longer than 72 hours. Without this permit, officials may deem your insurance invalid.