About Lewis and Lewis
The People Have Spoken — Lewis and Lewis has been helping people enjoy visits to Mexico for decades. At Lewis and Lewis we take pride in offering Superb Coverage at an economical price and providing outstanding Customer Service. See the Lewis and Lewis difference when you shop for Mexico travel insurance online.
Our Delighted Customers Are Saying...
"I just wanted to thank you for your excellent service and I will gladly recommend your company."
"I want to express my thanks and appreciation for the excellent service you have provided and the time you spent on this rather small claim. You must be some real professional in your field and you are to be congratulated. By copy of this mail I also wish to thank Jim Lewis, Lewis and Lewis for his excellent follow through and the time he spent on a small claim. This is also testimony of his excellent service and the reason his program is so successful."
"Thought I would let you know that our insurance claims have now been completed. We appreciate you and everything that you do to assist us as well as our wonderful personal relationship."
"First I want to say how satisfied I am with the resolution of my claim. Thank you for your part in it! I have had a great interest shown by my neighbors which may result in a few new accounts."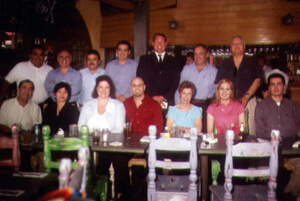 Lewis & Lewis with Quálitas in Tijuana
"We have used Lewis and Lewis for the last two years. Before that we used a different company but could not get first hand info on how they had performed. Lewis and Lewis come well recommended by people who have had an accident and actually used their service. That was enough for me and we switched. They are courteous, easy to deal with and reasonably priced."
"We're packing the kayaks and ready to leave. Thanks to you we are going with all things checked off the list and some relative peace of mind. We so appreciate your great customer service. It never matters if things go wrong as long as someone is there to make the problem disappear as you so ably and willingly did yesterday."
"I would like to tell you how much I appreciate the support, kindness, and the patience of Daisy in the last four months of helping me get through the claim of my father. She was more than just a clerk…she was fantastic. I am sure that I will never get better service anywhere else."
"We've done the homework (Thank you for All your Help) and will distribute the information to the Amigo's De Baja Bulletin board members. We are an informal club of approx. 200 Baja travelers. Some of us have personal and long-standing ties to other insurance companies, but I feel your organization has offered the Most Complete Insurance package available. Your prices are Fair. You responded to All of my questions and answered them fully in a timely manner. Some of the Insurance organizations failed to respond at all, while others tried to muddy the waters by asking me indirect questions and avoiding answers. Your company offers flexibility to those that need a little more (up to $500,000.00 CSL). The Medical coverage is the highest I found ($50,000.00). Your Legal aid ($100,000.00) is Second to None in Value. You offer Uninsured driver coverage (up to $100,000.00) where others fail, IF, they even offer it, and you have adjusters in all major cities. I hope that my efforts to find the Best Mexican Insurance available for my family will benefit Lewis and Lewis and my Baja loving friends."
A Little Lewis History
Member Beverly Hills Chamber of Commerce 1981 to 1999.
Worked in association with Marsh & McLennan Companies to develop the Group Medical Insurance plan for member businesses of the Beverly Hills Chamber.
Member Rotary Club of Beverly Hills 1981 to 1999.
Member Better Business Bureau with a AAA rating 2004 to present
1993 "Creation to Coronation"
Top producer of Mexican Travel Insurance online for Qualitas Compania de Seguros, S.A. de C.V.